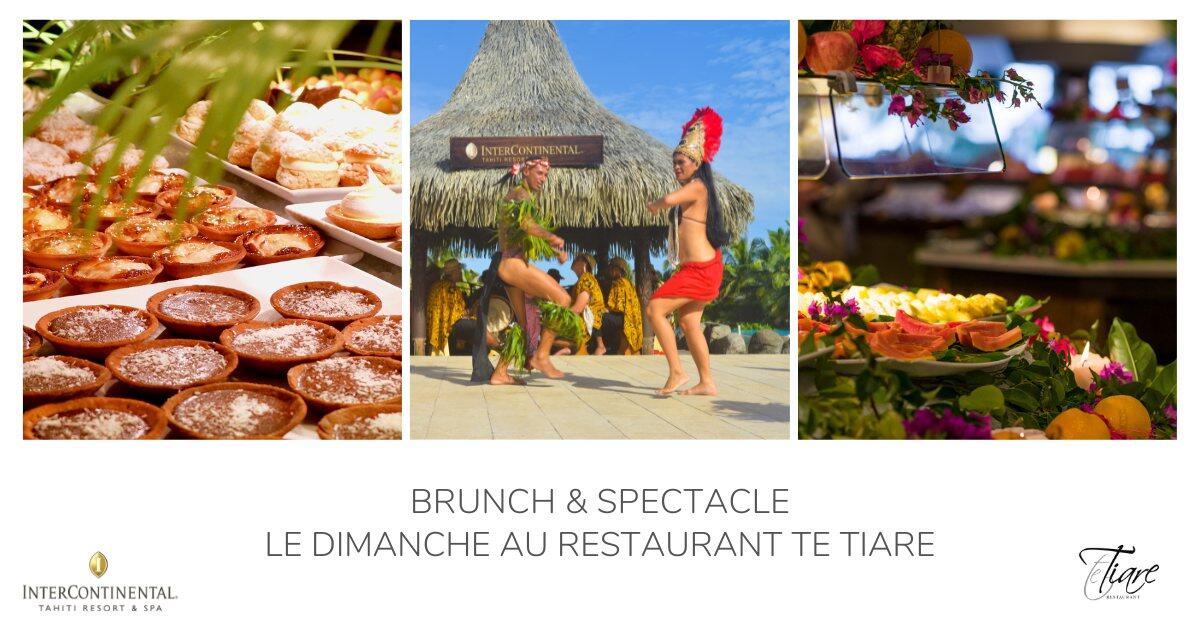 Tahitian Sunday Brunch - InterContinental Tahiti Resort & Spa
Cultural,
Traditions and folklore,
Show,
Dance,
Brunch,
Gastronomy
in Faa'a
Event organized by InterContinental Tahiti Resort & Spa

Come with your family or friends to Te Tiare restaurant for our Sunday brunch.
The entertainment is provided by the Marquesan troupe Toa Huhina with a 2-hour dance show!
Rediscover the great classics of local and international cuisine with our breakfast buffet:
- Tahitian; roasted pua'a, firi firi, coconut bread, raw fish...
- continental; pastries, fresh fruit, cold cuts, cheese, yogurt...
- American; eggs on demand, sausages, bacon, potato pancakes, pancakes...
From

January 1, 2023

to

December 31, 2023
7400 XPF

3700 XPF

• Children from 4 to 11 years old
Schedules

On

January 22, 2023

from 7:00 AM to 10:30 AM

On

February 5, 2023

from 7:00 AM to 10:30 AM

On

February 19, 2023

from 7:00 AM to 10:30 AM

Each sunday from

March 19, 2023

until

March 26, 2023

from 7:00 AM to 10:30 AM

Each sunday from

April 9, 2023

until

April 16, 2023

from 7:00 AM to 10:30 AM

On

April 30, 2023

from 7:00 AM to 10:30 AM

On

May 14, 2023

from 7:00 AM to 10:30 AM

Each sunday from

May 28, 2023

until

June 4, 2023

from 7:00 AM to 10:30 AM

On

June 18, 2023

from 7:00 AM to 10:30 AM

On

July 2, 2023

from 7:00 AM to 10:30 AM

On

July 16, 2023

from 7:00 AM to 10:30 AM

On

July 30, 2023

from 7:00 AM to 10:30 AM

On

August 13, 2023

from 7:00 AM to 10:30 AM