Underwater exploration
Wandering beneath the waves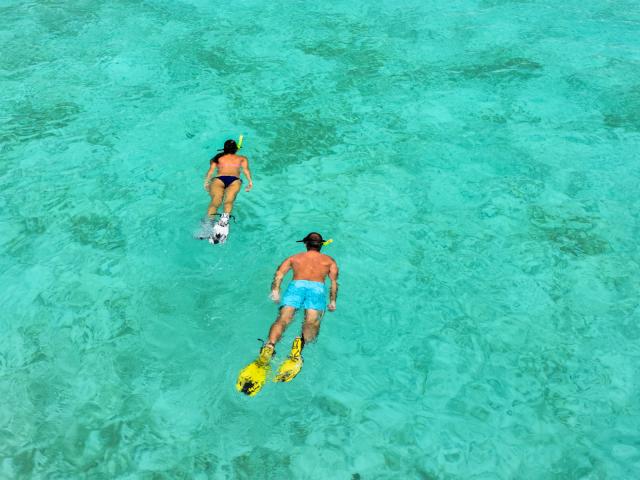 Dive right in…
... and under!
A visit to The Islands of Tahiti which doesn't include an exploration of the seabed would be like watching a Miss France contest without a Miss Tahiti – you'd be missing out on something very special. And that would be a pity, because you really are spoilt for choice. Naturally, the options include snorkeling and scuba diving, but why not try something out of the ordinary? Seascooter, seabob, subwing, aquabike or wearing a diving helmet…And if you don't want to get wet, take a tour on a glass-bottom boat.
Frequently asked questions
Discover the sealife
Above and beneath the waves
Crystal clear water, multicolored coral, tropical fish all around you… The picture postcard view of The Islands of Tahiti is perfectly real. Take your very first dive in one of the most beautiful diving destinations in the world and immerse yourself in this underwater paradise. If you don't want to dive, take an excursion on a glass-bottom boat and observe the depths from above. If you're feeling energetic, take a glass-bottom kayak and go your own way. For a more exciting underwater exploration you can try a seascooter, seabob, subwing, aquabike or even a diving helmet…
Choose your beach…
AND TAKE A PLUNGE!
ON THE SAND OR IN THE WAVES? ENJOY YOURSELF ON OUR DREAM BEACHES!
Surfing, sunbathing, paddleboard, jetboard…there are so many ways to spend your day at the beach!
Discover a whole new world
Underwater
Spoiled for choice? We know you are, but don't worry, we're here to help! We know our beloved Fenua by heart, so let us show you some of the very best of this underwater paradise…
You'll also enjoy
Explore even further